Posts for: March, 2015
By Patrick Ferry, DMD
March 17, 2015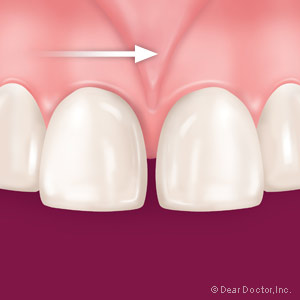 The various structures in your mouth — your teeth and gums, of course, as well as periodontal tissues that hold teeth in place within the jaw — all function together to create your smile. This includes muscles like the frenum, a fold of muscle tissue that connects the gums to the upper lip, which helps pull the lip upward when you smile.
Unfortunately, an overly large frenum could contribute to an unattractive space between your two upper front teeth. The problem occurs when the frenum grows beyond its normal range and runs between the front teeth to connect with the gums behind them at the forefront of the roof of your mouth. The resulting space that may develop can be closed with orthodontics, but unless the excess frenum tissue is addressed the space may eventually reopen.
The frenum is just one cause among many for a noticeably wide space, including bite problems (malocclusions), finger-sucking habits or missing teeth. We would, therefore, need to examine your mouth to determine the exact cause before beginning any treatment. If indeed the frenum is the source of the problem, it will be necessary to ultimately remove the excess portion through a procedure known as a frenectomy.
A frenectomy is a minor surgical procedure performed by a periodontist, oral surgeon or a general dentist with surgical training. After numbing the area with local anesthesia, the tissue behind the teeth is dissected or reduced in size with a small scalpel or a surgical laser. The wound is then closed with a few stitches; any post-surgical discomfort is usually minimal and managed with non-steroidal anti-inflammatory pain medication. The wound will completely heal within a few weeks.
Most frenectomies are performed after orthodontics to close the space. Removing it prior to tooth movement may result in scar tissue that prevents the space from closing. It's also easier for the surgeon to gauge how much tissue to remove after space closure to avoid removing too much, which can leave a "black" triangular hole where gum tissue should normally be.
Treating an abnormally large frenum isn't difficult, but it needs to be coordinated with orthodontic treatment for the best outcome. The end result is a smile that's both healthy and attractive.
If you would like more information on teeth spacing problems, please contact us or schedule an appointment for a consultation. You can also learn more about this topic by reading the Dear Doctor magazine article "Space between Front Teeth."
By Patrick Ferry, DMD
March 06, 2015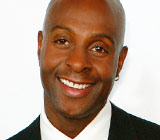 As a Pro Football Hall of Famer and first runner up on the hit television show Dancing with the Stars, Jerry Rice has a face and smile that truly has star quality. However, that was not always the case. During an interview with Dear Doctor magazine, the retired NFL pro discussed his good fortune to have had just a few minor dental injuries throughout his football career. He went on to say that his cosmetic dentist repaired several of his chipped teeth with full crowns. Rice now maintains his beautiful smile with routine cleanings and occasional tooth bleaching.
If you have chipped, broken or missing teeth, or are considering a smile makeover, we want to know exactly what you want to change about your smile, as the old adage is true: Beauty is in the eyes of the beholder. This is one reason why we feel that listening is one of the most important skills we can use during your private, smile-makeover consultation. We want to use this time to ensure we see what you see as attractive and vice versa so that together we can design a realistic, achievable blueprint for your dream smile.
For this reason, we have put together some questions you should ask yourself prior to your appointment:
What do you like and dislike about the color, size, shape and spacing of your teeth?
Do you like how much of your teeth show when you smile and when your lips are relaxed?
Are you happy with the amount of gum tissue that shows when you smile?
Do you prefer a "Hollywood smile" with perfectly aligned, bright white teeth, or do you prefer a more natural looking smile with slight color, shape and shade variations?
To learn more about obtaining the smile you want, continue reading the Dear Doctor magazine article "Great Expectations — Perceptions In Smile Design." Or you can contact us today to schedule an appointment so that we can conduct a thorough examination and discuss your cosmetic and restorative dentistry treatment goals. And if you want to read the entire feature article on Jerry Rice, continue reading "Jerry Rice — An Unbelievable Rise To NFL Stardom."