Posts for: July, 2015
By Patrick Ferry, DMD
July 23, 2015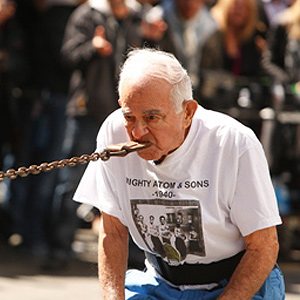 A recent episode of "America's Got Talent" featured an engaging 93-year-old strongman called The Mighty Atom Jr. The mature muscleman's stunt: moving a full-sized car (laden with his octogenarian "kid brother," his brother's wife, plus Atom's "lady friend") using just his teeth. Grinning for host Howie Mandel, Atom proudly told the TV audience that his teeth were all his own; then he grasped a leather strap in his mouth, and successfully pulled the car from a standstill.
We're pleased to see that the Atom has kept his natural teeth in good shape: He must have found time for brushing and flossing in between stunts. Needless to say, his "talent" isn't one we'd recommend trying at home. But aside from pulling vehicles, teeth can also be chipped or fractured by more mundane (yet still risky) activities — playing sports, nibbling on pencils, or biting too hard on ice. What can you do if that happens to your teeth?
Fortunately, we have a number of ways to repair cracked or chipped teeth. One of the easiest and fastest is cosmetic bonding with tooth-colored resins. Bonding can be used to fill in small chips, cracks and discolorations in the teeth. The bonding material is a high-tech mixture of plastic and glass components that's extremely lifelike, and can last for several years. Plus, it's a procedure that can be done right in the office, with minimal preparation or discomfort. However, it may not be suitable for larger chips, and it isn't the longest-lasting type of restoration.
When more of the tooth structure is missing, a crown (or cap) might be needed to restore the tooth's appearance and function. This involves creating a replacement for the entire visible part of the tooth in a dental lab — or in some cases, right in the office. It typically involves making a model of the damaged tooth and its neighbors, then fabricating a replica, which will fit perfectly into the bite. Finally, the replacement crown is permanently cemented to the damaged tooth. A crown replacement can last for many years if the tooth's roots are in good shape. But what if the roots have been dislodged?
In some cases it's possible to re-implant a tooth that has been knocked out — especially if it has been carefully preserved, and receives immediate professional attention. But if a tooth can't be saved (due to a deeply fractured root, for example) a dental implant offers today's best option for tooth replacement. This procedure has a success rate of over 95 percent, and gives you a natural looking replacement tooth that can last for the rest of your life.
So what have we learned? If you take care of your teeth, like strongman Atom, they can last a long time — but if you need to move your car, go get the keys.
If you would like more information about tooth restoration, please contact us or schedule an appointment for a consultation. You can learn more by reading the Dear Doctor magazine article "Crowns & Bridgework."
By Patrick Ferry, DMD
July 08, 2015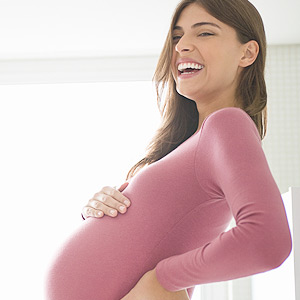 For a healthy pregnancy, it helps to have healthy teeth and gums. In fact, the American College of Obstetricians and Gynecologists (ACOG) encourages its members to advise expectant moms to see their dentist. But maintaining oral health can be more challenging when you're expecting. For one thing, hormonal changes make you more susceptible to periodontal (gum) disease, which has been linked to "systemic" (general body) health problems including preterm labor and low birth weight.
Periodontal (gum) disease results from the buildup of bacterial plaque on tooth surfaces in the absence of good oral hygiene. It typically starts as gingivitis — inflammation and redness around the gum margins and bleeding when brushing and flossing. If the infection progresses, it can attack the structures supporting the teeth (gums, ligaments, and bone) and may eventually result in tooth loss. And if the infection enters the bloodstream, it can pose health risks elsewhere in the body. Studies suggest that oral bacteria and their byproducts are able to cross the placenta and trigger an inflammatory response in the mother, which may in turn induce early labor.
TLC for Your Oral Environment
Brushing twice daily with fluoride toothpaste and flossing or using another interdental cleaner at least once daily is your first-line defense again bacteria buildup. Professional cleanings are also important to remove hardened plaque (calculus) that brushing and flossing may miss. And regular checkups can catch problems early to avoid or minimize adverse effects. Periodontal disease and tooth decay aren't always painful or the pain may subside, so you won't always know there's a problem.
Dental emergencies such as cavities, root canals and tooth fractures should be treated promptly to address pain and infection, thereby reducing stress to the developing fetus. Of course, if you know you need a cavity filled or a root canal prior to becoming pregnant, that's the optimal time to get treated!
If you would like more information about dental care during pregnancy, please contact us or schedule an appointment for a consultation. You can also learn more about the subject by reading the Dear Doctor magazine article "Pregnancy and Oral Health."