Posts for: October, 2017
By Patrick Ferry, DMD
October 29, 2017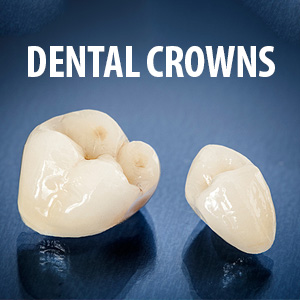 So, you're about to have a tooth capped with a crown. Do you know what you need to know before you undergo this common dental procedure?
Here's a short true or false quiz to test your knowledge of dental crowns.
All crowns are the same. False — while all crowns have the same basic design — a life-like prosthetic tooth fitted over and bonded or cemented to a natural tooth — their compositions can vary greatly. Early metal crowns consisted mainly of gold or silver and are still used today. Porcelain-fused-to-metal (PFM) crowns — a metal interior for strength overlaid by a porcelain exterior for appearance — became popular in the latter 20th Century. Although still widely used, PFMs have been largely surpassed by newer all-ceramic materials that are stronger than past versions.
Crowns can differ in their artistic quality. True — all crowns are designed to replicate a natural tooth's function — in other words, enable the tooth to effectively chew again. But a crown's appearance can be a different story, depending on how much attention to detail and artistry goes into it. The higher the individual craftsmanship, the more lifelike it will appear — and the more expensive it can be.
With digital milling equipment, dental labs are obsolete. False — although technology exists that allows dentists to produce their own crowns, the equipment is not yet in widespread use. Â The vast majority of crowns are still produced by a trained technician in a dental laboratory. And just as you base your choice of a dentist on your confidence in and respect for them, dentists look for the same thing in a dental lab — good, reliable and consistent results.
Your insurance may not cover what your dentist recommends. True — dental insurance will typically pay for a basic, functional crown. Aesthetics — how it will look — is a secondary consideration. As a result, your policy may not cover the crown your dentist recommends to function properly and look attractive. A new crown, however, is a long-term investment in both your dental function and your smile. It may be well worth supplementing out of pocket your insurance benefit to get the crown that suits you on both counts.
If you would like more information on crown restorations, please contact us or schedule an appointment for a consultation.
By Patrick Ferry, DMD
October 14, 2017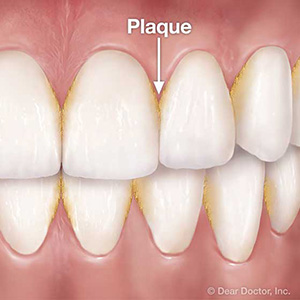 The American Dental Hygiene Association has designated October as National Dental Hygiene Month. Good dental hygiene is the best weapon against your mouth's number one enemy: dental plaque.
Plaque, a sticky biofilm that forms on your teeth, is an accumulation of bacteria, other microorganisms, food debris, and other unpleasant components. It can make your teeth feel fuzzy or slimy. And worse, the bacteria in plaque can lead to tooth decay and gum disease.
The best way to keep plaque at bay is by brushing your teeth twice a day and flossing once a day. But even though you can remove much of the plaque in your mouth with a toothbrush and dental floss, there are nooks and crannies that are hard to access with these basic oral hygiene tools.
Staying on top of dental plaque is an ongoing challenge. Immediately after teeth are cleaned, plaque starts to form again. And the longer plaque stays on teeth, the thicker it grows. Minerals in saliva become incorporated into the biofilm. As plaque takes on more minerals, it becomes calcified. This is when it hardens into calculus, or tartar. At this stage, tooth-brushing and flossing cannot disrupt the hardened layer of buildup, sometimes visible as yellow or brown deposits around the gum line.
This is why it's important to schedule regular professional dental cleanings. At the dental office, we have special tools to remove tartar and get at those hard-to-reach places that your toothbrush and floss may have missed. If you have questions about dental hygiene, plaque control or another oral health issue, we are happy to talk with you. We are your partners in fighting plaque for a bright, healthy smile!
Read more about the topic in the Dear Doctor magazine article "Plaque Disclosing Agents."