Posts for tag: root canal
By Patrick Ferry, DMD
July 01, 2020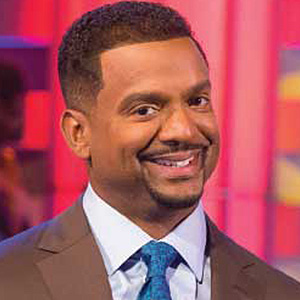 Remembered fondly by fans as the wacky but loveable Carlton on The Fresh Prince of Bel-Air, Alfonso Ribeiro is currently in his fifth year hosting America's Funniest Videos. It's the perfect gig for the 48-year-old actor, who loves to laugh and make others laugh as well. This is quite the opposite experience from one he had a few years ago that he remembers all too well: a severely decayed tooth.
After seeing his dentist for an intense toothache, Ribeiro learned he had advanced tooth decay and would need root canal treatment. Ribeiro wasn't thrilled by the news. Like many of us, he thought the procedure would be unpleasant. But he found afterward that not only was the root canal painless, his toothache had vanished.
More importantly, the root canal treatment saved his tooth, as it has for millions of others over the last century. If you're facing a situation similar to Alfonso Ribeiro's, here's a quick look at the procedure that could rescue your endangered tooth.
Getting ready. In preparation for root canal therapy, the tooth and surrounding gums are numbed, often first with a swab of local anesthesia to deaden the surface area in preparation for the injection of the main anesthesia below the surface. A dental dam is then placed to isolate the infected tooth from its neighbors to prevent cross-contamination.
Accessing the interior. To get to the infection, a small access hole is drilled. The location depends on the tooth: in larger back teeth, a hole is drilled through the biting surface, and in front teeth, a hole is drilled on the backside. This access allows us to insert special tools to accomplish the next steps in the procedure.
Cleaning, shaping and filling. Small tools are used to remove the diseased tissue from the interior tooth pulp and root canals. Then the empty spaces are disinfected. This, in effect, stops the infection. Next, the root canals inside the tooth are shaped to allow them to better accept a special filling called gutta percha. The access hole is then sealed to further protect the tooth from future infection, and a temporary crown is placed.
A new crown to boot. Within a couple weeks, we'll cap the tooth with a long-lasting lifelike crown (or a filling on certain teeth). This adds further protection for the tooth against infection, helps strengthen the tooth's structure, and restores the tooth's appearance.
Without this procedure, the chances of a tooth surviving this level of advanced decay are very slim. But undergoing a root canal, as Alfonso Ribeiro did, can give your tooth a real fighting chance.
If you would like more information about root canal treatments, please contact us or schedule a consultation. To learn more, read the Dear Doctor magazine articles "A Step-By-Step Guide to Root Canal Treatment" and "Root Canal Treatment: How Long Will It Last?"
By Patrick Ferry, DMD
April 16, 2015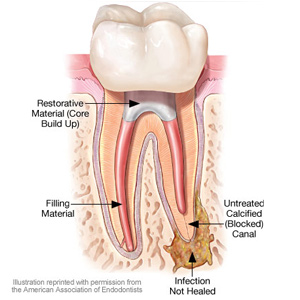 When decay spreads to the tooth's inner pulp, a root canal treatment may be necessary to save it. It's a common procedure: after removing all tissue from the pulp, the pulp chamber and root canals are filled with a special filling. The tooth is then sealed and a crown installed to protect the tooth from re-infection and/or fracture, possibly extending the tooth's life for many years.
Sometimes, however, the tooth doesn't respond and heal as expected: the number, size and shape of the patient's root canals may have complicated the procedure; there may have been a delay before installing the final crown or restoration or the restoration didn't seal the tooth as it should have, both occurrences giving rise to re-infection. It's also possible for a second, separate occurrence of decay or injury to the tooth or crown to undo the effects of successful treatment.
It may be necessary in these cases to conduct a second root canal treatment, one that may be more complicated or challenging than the first one. For one thing, if the tooth has been covered by a crown or other restorative materials, these will most likely need to be removed beforehand. In cases where the root canal network and anatomy are challenging, it may require the expertise of an endodontist, a dental specialist in root canal treatments. Using advanced techniques with microscopic equipment, an endodontist can locate and fill unusually narrow or blocked root canals.
Because of these and other possible complications, a root canal retreatment may be more costly than a first-time procedure. Additionally, if you have dental insurance, your particular benefit package may or may not cover the full cost or impose limitations on repeated procedures within a certain length of time. The alternative to retreatment, though, is the removal of the tooth and replacement with a dental implant, bridge or partial denture with their own set of costs and considerations.
The complications and costs of a repeated procedure, though, may be well worth it, if it results in a longer life for the tooth. Preserving your natural tooth is in most cases the most desired outcome for maintaining a healthy mouth.
If you would like more information on root canal treatments, please contact us or schedule an appointment for a consultation. You can also learn more about this topic by reading the Dear Doctor magazine article "Root Canal Treatment."